1. Germany is the leader in non-alcoholic beers. The trend beverage non-alcoholic beer is also playing an increasingly important role in the German brewing landscape. Germany's brewers are world leaders in the production of non-alcoholic beers and beer mixes. Since 2007, production of non-alcoholic beer varieties in Germany has more than doubled – to an expected 6.80 million hectoliters in 2021. The first non-alcoholic beers were launched in this country just over 50 years ago. There are now more than 800 different brands nationwide. The Brewers' Association expects that one in ten beers brewed in Germany will soon be alcohol-free.
2. The first non-alcoholic beer came from the GDR. AUBI, the AUtofahrer BIer ("driver beer") from the GDR, was the first alcohol-free beer on German soil. It was developed in 1972 and presented to a large audience for the first time one year later at the Leipzig Trade Exhibition. Since the GDR had a zero-alcohol-level rule in road traffic, it was well received there. During this period, a number of breweries in West Germany also tried to produce non-alcoholic beer. It was not until the Clausthaler brand was launched that the previously small non-alcoholic beer segment gained momentum. This was launched in Germany in 1979 and is one of the only beer brands to offer exclusively alcohol-free varieties. The first beers with 0.0 % alcohol were launched in 2006 and 2007.
Better taste through new production processes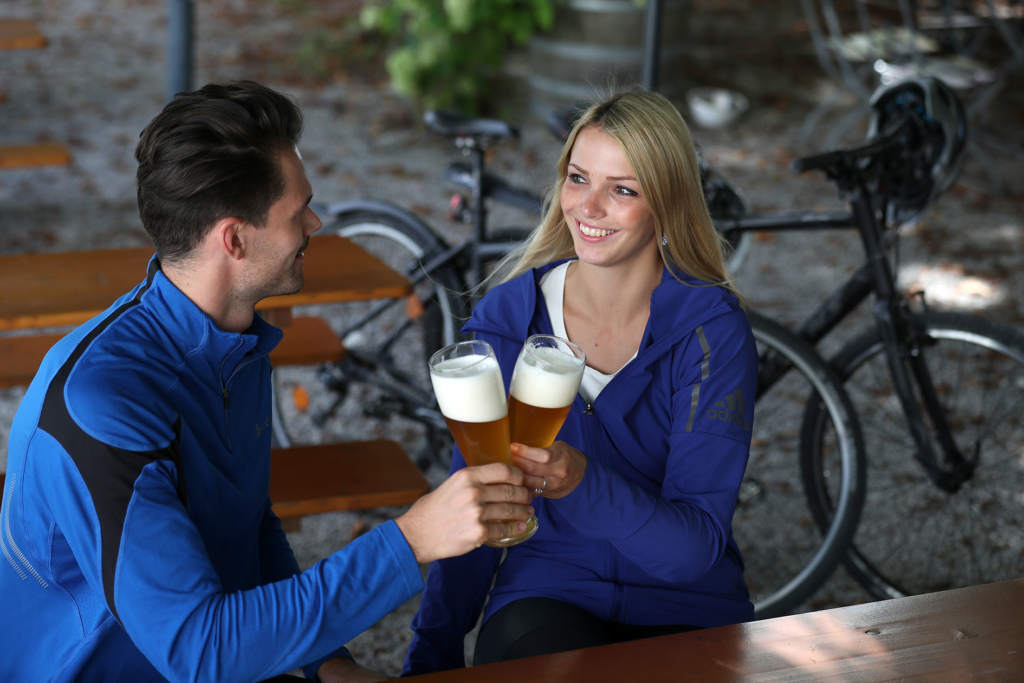 3. Non-alcoholic beer is getting better and better. The taste of non-alcoholic beer has improved significantly over the years – experts and consumers agree on this. In the past, fermentation of non-alcoholic beer was usually stopped after a certain time, but today the beer is allowed to finish fermenting and then the alcohol is removed. New, more complex production processes such as reverse osmosis, dialysis or vacuum evaporation are used. A combination of several processes is also used. With stopped fermentation, the greatest challenge is to prevent the aromas of the unfermented wort and thus also excessive sweetness. If the alcohol is removed only after fermentation, it is easier to retain the original taste of the beer as far as possible. This is how many brewers now manage to produce a non-alcoholic beer that comes close to an alcoholic one in terms of taste. Because it tastes better than ever before, the trend beverage of non-alcoholic beer is becoming increasingly popular.
Non-alcoholic beer is a trend beverage – not only for athletes
4. Non-alcoholic beer is becoming more and more popular. Currently, non-alcoholic beers have a market share of seven percent in Germany – and the trend is rising. This places Germany in mid-table. Nowhere is non-alcoholic beer more popular than in Spain: Over 15 percent of the beer that Spaniards drink is alcohol-free. In addition to classic varieties such as Pils or wheat beer, there are also more and more regional specialties such as Kölsch or Alt, as well as the popular Helle and many craft varieties such as IPA in non-alcoholic versions. During the Corona crisis, these were able to hold their own better than beers with alcohol. According to a recent consumer survey commissioned by the Brewers Association (INSA, January 2021, 2040 respondents), almost every second participant drinks non-alcoholic beer. Alcohol-free shandy ("Radler") is ahead in popularity at 31 percent, closely followed by alcohol-free wheat beer (30%). One in four (25%) prefers alcohol-free pilsner. The market research institute IWSR forecasts a global annual sales growth of 8.8 percent for non-alcoholic beer up to 2023.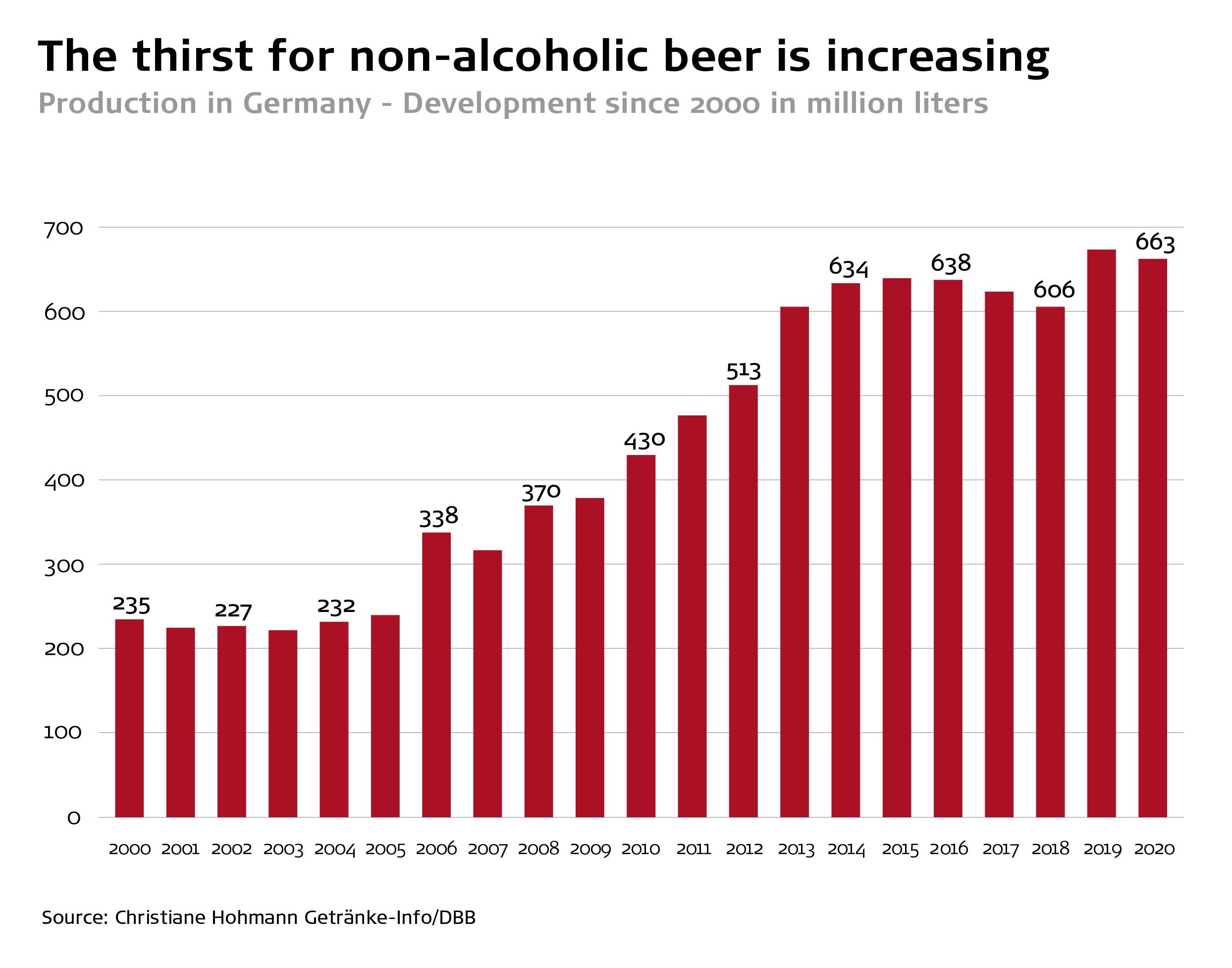 5. The " Fitness Generation " likes to drink non-alcoholic beer. Many manufacturers are targeting sporty and health-conscious people with their alcohol-free beers – and with success. In 2018, a study at the Cologne Sports University concluded that non-alcoholic beer is best suited as an isotonic and vitamin-rich thirst quencher for maintaining performance in sports. But it is not only among athletes that non-alcoholic beer is extremely popular as a refreshing and low-calorie trend drink and a tart substitute for lemonade and spritzers. Alcohol consumption decreases with age. In an aging society, where more and more people are giving up alcohol for health, religious or other reasons, but still want to enjoy the taste of beer, non-alcoholic beer is a popular alternative.
Bright spot in a difficult market
6. Non-alcoholic beer mix drinks are in demand as never before. The big winner over the last ten years has been non-alcoholic beer mixes. Non-alcoholic shandy and the like have long since ceased to be niche products. Their volume in stores across Germany is now around 750,000 hectoliters. Recently, they have grown more strongly than any other type. According to the market research company Nielsen, they recorded a 16.5 percent increase in sales in 2020 compared to the previous year.
7. There is still a lot of potential in non-alcoholic beer. The fact that beer has been allowed to be hopped for 10 years now also benefits the variety of flavors in non-alcoholic beers. By adding further hop varieties, the beer can be subsequently "spiced up" with flavors such as citrus, chocolate, mint or mango. This gives it an intense flavor – without any alcohol, which otherwise acts as a flavor carrier. And more and more exciting non-alcoholic beverages are also being developed beyond the purity law – the flavor additions here range from coffee beans to Earl Grey. The positive development in non-alcoholic beers is a bright spot in view of the otherwise difficult market situation. Given the optimistic forecasts, it would therefore be a smart move for the brewing industry to focus specifically on non-alcoholic beers in the future. After all, there is definitely still room for improvement in the trend beverage of non-alcoholic beer.
Photo credit: German Brewers Association (Deutscher Brauer-Bund)