It is the truly important things, that the Stauder Brewery in Essen cares about: family, traditions, honesty and best-in-class Pilsner. The latter especially turned numerous of the most exclusive hotels and restaurants into customers. When a company manages to stay successful within the strongly competitive beer industry for more than 150 years, it shows that it counts on the right values and an innovative, up-to-date product policy.  That is certainly why Stauder's attitude towards best-in-class quality is one of its secrets to success. A premium family-owned brewery: Stauder scores with exquisite Pilsner!
A premium family-owned brewery: successful since more than 150 years!
Theodor Stauder was a brewery assistant from Bavaria who moved to the Ruhr area in 1867. He rented the small house brewery Schlicker and established the bottom-fermented way of brewing. In 1888 Jacob Stauder had the company enlisted in the Prussian Royal Company Registry. That is when the success story of the brewery started, and it had been continued from generation to generation ever since.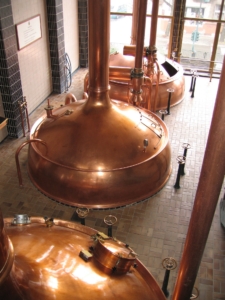 Nowadays the company is being steered in 6th generation by the cousins Dr. Thomas Stauder and Dipl.-Ing. Axel Stauder. It certainly is not an obvious matter of course that the values and uncompromising approach to quality of the brewery had been held up by so many generations. The two current company leaders are no exception, they proudly put their name on each end every single glass of Stauder beer. As a 'small but nice' brewery they stand strong amongst huge corporations while they rely on craftmanship and tradition.
This is especially valued by upscale gastronomy. Stauder beer can be found in the most exclusive restaurants and hotels from Hamburg to Munich. Therefore, it is only natural that the COVID crisis had a huge impact on the sales figures: "Especially with draft beer we had and still have significant decrease in sales"' comments Axel Stauder. "Luckily we were able to compensate at least a certain part by selling more bottled beer. In November 2020 we also launched our own online shop, to be able to sell directly to our customers. The shop started off very well, especially for our amazing merchandising items. We are so happy about the engagement and enthusiasm of our loyal fans!"
Best-in-class Pilsner as guarantee for success – even in a mini keg!
Stauder claims his premium Pilsner to be 'his own little character' – not without reason! Precious aroma hop and double-cell summer malting barley are only two of the high quality ingredients, that make for the harmonious taste of the Pilsner. The Pilsner excels thanks to its fine hoppy character, the creamy head and a light, golden color. "With this premium product we are not only uncompromising in terms of resource quality, but we also give our beer all the time it needs"' explains Axel Stauder. "We apply traditional craftmanship and we store our beer for an extraordinarily long time. Furthermore, our Pilsner is available in various sizes and containers. One of the most popular is the 0.33l longneck bottle. It is exclusive, neat and up-to-date."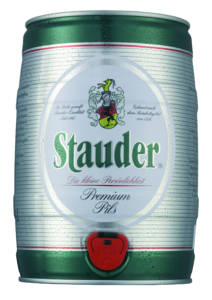 The party keg is part of Stauder's range since 2006. It is filled with exquisite premium Pilsner. The world championship in 2006 made for the perfect occasion to launch the mini keg – with great success! Since this time, it is offered throughout all seasons und it is being sold about 20.000 times per year. From the very beginning Stauder bought its mini kegs from Envases and is very pleased about the collaboration. "We appreciate the reliable, friendly and quality-oriented service that Envases offers us. Especially the latter is of greatest importance to us since we rely on top-notch quality ourselves. For that reason, we will continue to buy our 5-liter kegs from Envases," comments Axel Stauder on the business partnership.
Premium family-owned brewery: investments for the future
The Stauder Brewery wouldn't have remained successful for the course of six generations, if the company leaders wouldn't have focused on continuous improvement, innovation and future development. That is exactly what the current management team believes in as well. Despite lockdown and significant cutbacks in gastronomy, Stauder invested 200.000 Euro in modernizing. The control system for the brewhouse and the hot-water-generator needed to be renewed. Last year they also invested in a new filling machine. "We are getting ready for the future," says Axel Stauder. "The demand for bottled beer is increasing continuously – which makes us very optimistic. We certainly hope that bars and restaurants will be able to re-open soon.  Despite the fact that Corona caused us significant losses, we try to make the best of the current situation and focus on different kinds of containers and sales channels. We simply know that people appreciate a good Pilsner – no matter what way they will get it." Given that huge amount of optimism and flexibility the premium brewery is very well prepared for the next 150 years.