"Is there no man in charge around here?!" Questions like this evoke nothing but a smile from 34-year-old Gisi Hansen. She has been hearing them too many times during the past years – asked by irritated technicians, buyers or visitors. Actually, female power is the order of the day at
Brauerei Meinel
 in Upper Franconia since many years. More than 35 years ago, for the first time within the history of the brewery that was founded in 1731, a woman took over the steering wheel of the company when Gisela Meinel-Hansen followed into her father's footsteps. Five years ago, both of her daughters, Gisi and Moni, joined the management board. With a lot of energy and passion, but also the due respect for the long history of their brewer family, they give 200 percent every single to in order to prepare the traditional company for the future.
Since more than three decades Brewery Meinel thrives thanks to female power
Thanks to their ambitious goals, innovative ideas, and successful networking, the Meinel sisters have made a name for themselves within the industry. Both of them are professionally trained master brewers and commercial managers for the beverage industry. In 2009, Monika was awarded Germany's youngest master brewer and, on top of that, best of her class. With her self-composed beer, the blonde 'Meinel Bräu Weizenbock', she won Gold and Silver at the European Beerstar. Furthermore, Gisela is beer sommelière, President of Bund der Doemensianer und chairwoman of Verein Bierland Oberfranken.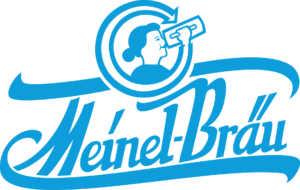 'As a women you need to be twice as good as a man to earn your respect within a male-dominated industry' – Gisi Hansen experienced this saying to be true. But this would never demotivate or stop her from anything. The opposite is the case. Just like her sister who is ten years younger than her, she is bubbling with creative ideas. A lot of them have already been put into practice by the female power team at Brewery Meinel. Like their own beer saloon in Hof's city center or a new wheat beer cellar that was built to be able to brew top-fermented ale. It was a huge investment for the family-owned company on which they spent a quarter million Euros, but according to Gisi Hansen it was an important one in order to be set up right for the future. The 34-year-old watches the market very closely and stays up to date in terms of the newest beer trends. For her own company, she relies on a broad variety of beer. Currently they are brewing 18 different types at Meinel-Bräu. Ten of which are part of their regular assortment, eight are seasonal beers.
 "Beer fairies from Upper Franconia" gain overnight fame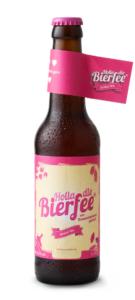 Some of the novelties had to be pushed through by the young female leaders against quite some backlash. In the meantime, they have become big sellers, like the refreshing organic Radler made with lemonade and grapefruit in a 0,33l bottle and, of course, the specialty beer HolladieBierfee. The latter made the two sisters famous – almost overnight. The idea for this specialty beer was born on a fun night out at the regular's table of four female brewers that had been founded by Gisi and Moni Hansen just a little bit earlier.
"We were just having a good time, chatting and wondering why all the women sitting around us were only drinking Aperol Spritz", recalls Gisi Hansen about that very night seven years ago. The young female brewers decided: "We have to create a special beer – just for women." Very different from the typical beer hat is served in heavy steins. "More elegant, with a fruity aroma and an exciting color – the beer-version of an Aperol Spritz so to say". The result was the orange-red stout HolladieBierfee, an aromatic spelt-pale-ale. The Meinel sisters and their two companions became known as the "beer-fairies from Upper Franconia" when the new product was launched!
Balancing tradition and innovation
A fancy label, an extraordinarily shaped bottle, a modern brand appearance – what made the new brand HolladieBierfee popular was unthinkable for a traditional company like Meinel-Bräu. Therefore, the re-design of the Meinel logo and the labels of the beer bottles was the "result of a very conscious and cautious process", explains Gisi Hansen. Winning over new customers without losing old ones is not an easy thing to do for a traditional brewery with more than 300 years of history. But the two female leaders were able to master this balancing act: logo and labels were very well-received by the customers.
After five powerful years with lots of new products and costly investments, the plan was to steer the company into calmer water. But then COVID happened. "Two seasons without events, having to close the pub and saloon business and a decrease in sales of roughly 40 per cent – that hit us really hard", says Gisi Hansen. Putting their heads into the sand and waiting it out, however, is not an option. Therefore, the two sisters are already brainstorming about new marketing concepts like beer seminars, picnic events and a flexible beverage delivery service with a small electric car fleet.
Mini kegs as an important part of direct marketing
Besides all this, the mini keg is an integral part of Meinel-Bräu's direct marketing and became even more important because of COVID.
"Tapping your own beer at home has become very popular", knows Gisi Hansen. "We see a lot of people on vacation, campers or impulse buyers who pick up a cold mini keg for takeaway." By pre-ordering five days in advance, any type of beer of the Meinel assortment can be filled in a 5-liter-keg.
"No matter if it is HolladieBierfee for a ladies night or our Freindla for 'Hof's fair for home' – we have a ton of success with them", says Gisi Hansen. Roughly 2000 mini kegs have been sold during the past year and now they are even thinking about creating their own design for the kegs.
Decreasing beer consumption per capita, growing competition, demographic changes in the countryside of Upper Franconia and now the pandemic – these are no easy times for the almost 300-year-old brewery in Hof. But the two young brewery leaders Gisi and Moni Hansen do not only have a lot of energy and optimism, they also bubble with ideas and – above all – an unbreakable passion for beer. One thing is for sure: there is no way the 13th generation of the Meinel family will ever succumb to whatever difficulties that come their way.