Soccer and beer somehow belong together. One will hardly find a soccer viewing event where you won't have the chance to cheers with some ice-cold beer. That will be no different for the European Championship in 2021. It had been postponed for a year due to COVID and you can be sure that a trip to the stadium won't be the first thing on people's mind even this year. Fans will tend to enjoy watching the games in front of their own TVs at home instead. Is there anything better than tapping your own keg at home and enjoy some cold draft beer while watching a game? Bitburger Brewery knows the answer to that question and decided to launch a special product for that occasion. The Euros party keg: Bitburger relies on soccer and draft beer @home!
The Euros party keg: soccer sponsoring is important tool for marketing!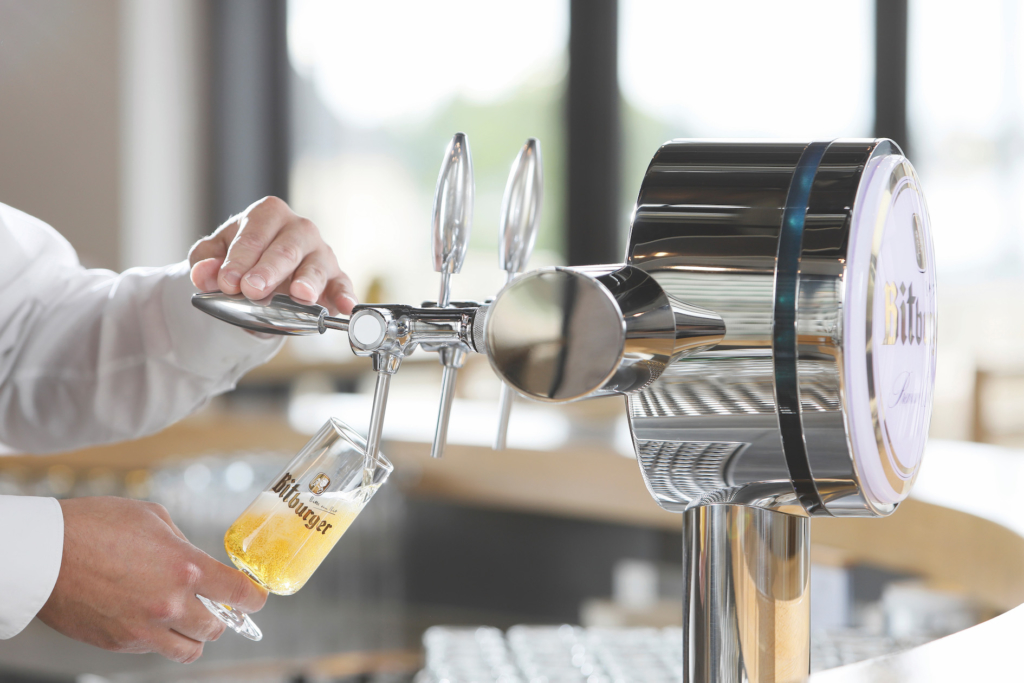 Bitburger Brewery is one of the most famous breweries in Germany. They became a well-known sponsoring partner for sports and cultural events, not only in their local area. Soccer has always played a special role for the brewery from the Eifel. Bitburger therefore supports many soccer clubs like Borussia Mönchengladbach, Bayer Leverkusen, TSG 1899 Hoffenheim and SC Mainz 05. To name just a few of the big soccer clubs they sponsor. But Bitburger also supports smaller, local clubs and teams from other sports. Basketball, handball and ice hockey are focal points for the company as well as running events and sponsoring of the triathlon with 0.0% non-alcoholic Bitburger.
Due to COVID a lot of events had been cancelled during this past year and Bitburger decided to focus on online activities instead. All of them have been quite successful. Bitburger, in general, is interested in long-term partnerships that are meant to endure during and after Corona. This is an important part of the company's philosophy.
Euros party keg: emotion meets design!
"We developed a special Euros design not only for our party kegs, but also for a 0.5 liter can and a 5+1 – pack, explains Jacobs. "But the 5-liter-keg is the most emotional product and it's the one closest to our hearts. Furthermore, it gives us great visibility in retail stores. We will have a big advertising campaign for this product via our digital channels."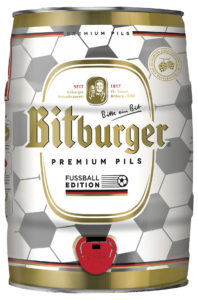 The Euros party keg will be distributed all over Germany by beverage stores as well as grocery stores – given that most people will tend to watch European Championship games at home. Public viewing or soccer parties in bars and restaurants – none of this will be possible in the same way it used to be due to Corona 2021. Therefore, it will become even more important to be able to tap your own ice-cold draft beer at home.
Strong partnership with Envases since more than 30 years!
Obviously Bitburger's special edition for the European Championship is not the first-ever promotion of its kind for a big soccer event. During the past 30 years there have been special editions for almost every European or World Championship. Focal point of almost every promotion like this was a 5-liter-keg and Envases has been Bitburger's loyal partner for these campaigns since 1990. "We appreciate our collaboration with Envases especially because they are such good team players and they have been very cooperative, loyal and reliable from the very beginning of our partnership", praises Birgit Grün, product manager at Bitburger. "It is exactly like it should be, when you want to work and succeed on a professional level as a big company. That is one of the reasons why the party keg has become a constant highlight in our product range and heads every special edition for big events of any kind."
Envases Öhringen is very pleased about such loyal and long-term clients. Envases is sure of being able to reliably and cooperatively deliver party kegs for many, many years to come. It won't be long until the next big soccer event will knock on our doors.