The COVID crisis was tough on the beer brewing industry. Pubs and restaurants had been closed for several months, all events and other social gatherings were cancelled and therefore made for a massively reduced beer consumption overall. Pictures of countless barrels of beer that had to be destroyed went around the globe. A tragedy. Therefore, it is even more surprising to hear about breweries that were able to keep their sales figures up during the crisis year 2020.  Intelligent digital concepts and a stronger focus on beer sales for at home consumption were key factors to success. One of these successful breweries is based in Görlitz (Germany). Winners despite COVID: Landskron BRAU-MANUFAKTUR puts emphasis on digital offers!
Winners despite COVID: How Landskron successfully launched digital concepts!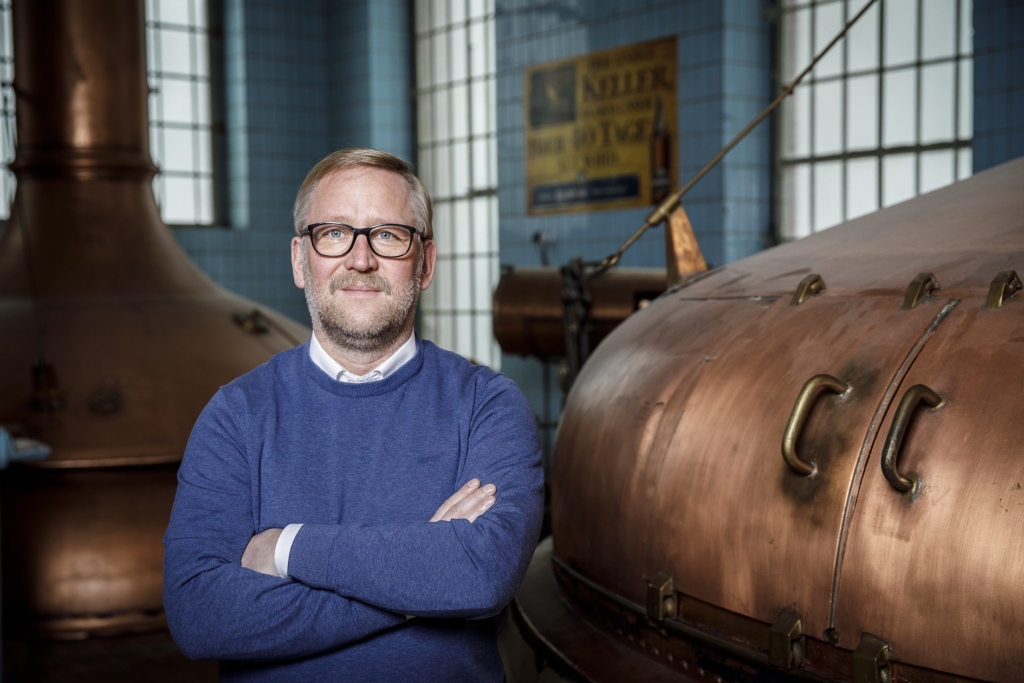 Uwe Köhler, CEO Landskron Brewery / Photo: Nikolai Schmidt
According to the 4th sector survey of Deutscher Brauer-Bund, the German Union of Brewers, sales figures for beer and mixed drinks dropped by an average of 19%. Small breweries complain about decreased sales by up to 50%. On average 23% less beer was sold in 2020 compared to the previous year. Luckily, Landskron BRAU-MANUFAKTUR was able to prove itself within the industry to do better. With 162.000 hectoliters of beer the sales figures are just as high as in 2019. That is a huge success, especially since overall sales for beer barrels decreased by 60% due to COVID. This is even more impressive since all of the numerous events the iconic brewery had planned had to be cancelled after March 2020.
Landskron BRAU-MANUFAKTUR focused on out-of-store sales instead. Besides good visibility in beverage stores, their very own web shop became an even more important source of revenue. Especially during a global pandemic, it is very easy and popular to order your favorite kind of beer online and have it delivered to your home. To make it as comfortable as possible for Landskron customers, the BRAU-MANUFAKTUR developed a dedicated app for online ordering. More than 40.000 user prove that this step towards digitalization was a very successful one. Thanks to this app, it is not only possible to create a modern marketing experience and special customer interaction in all things beer, you can also order your favorite kind of beer to your house from your smartphone.
Winners despite COVID: best craft beer since 150 years!
In 1869 Landskron Brewery had been founded in Görlitz and therefore is one of the oldest still producing industrial monuments in Germany. Up to this day the company behind these listed brick walls brews its beer in the most traditional way. This includes an open fermentation process, conducted by hand. Thanks to this way of production the master brewer can lift the yeast head by hand. This is important to get rid of unwanted flavors in taste and aroma of the beer. Afterwards the beer is being stored in big tanks in twelve-meter-high vault cellars for at least four weeks. The manual brewing process as well as the extraordinarily long time for maturation make all types of beer of the BRAU-MANUFAKTUR so very precious and lightly digestible. In contrast to industrial beer that is brewed in a computer-controlled process, for this beer it is only thanks to the skilled craftmanship of the master brewer that the beer comes in consistent quality.  Therefore, all Landskron types of beers are proof for top of the art craftmanship and won the award for 'long-term product quality' of the DLG for the 25th time a row.
Landskron Pils in a MiniKEG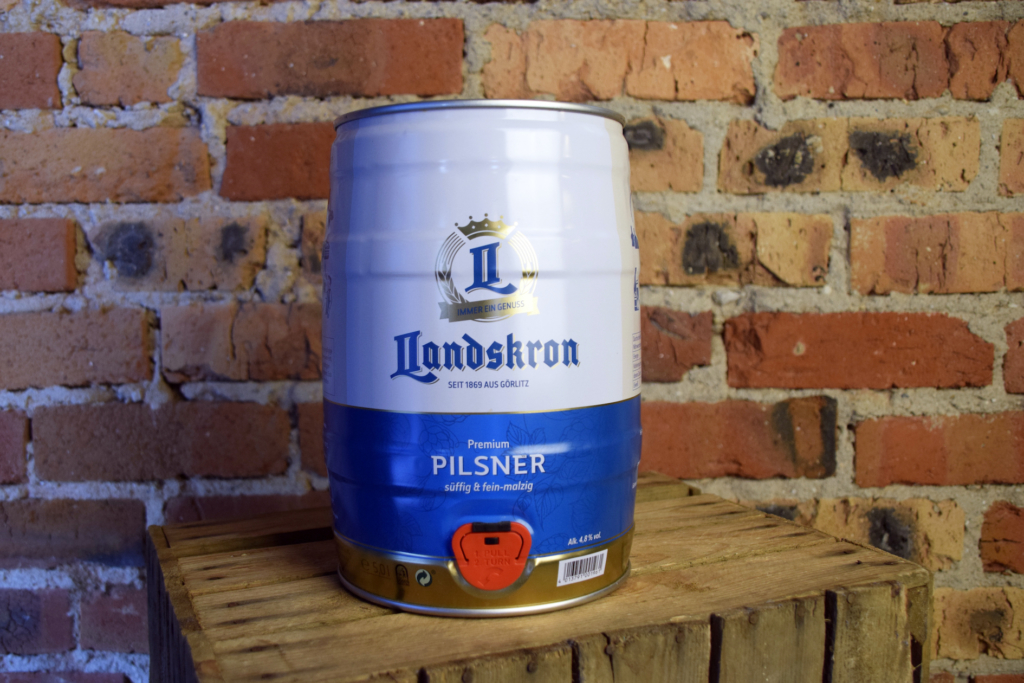 In terms of brewed beer, Saxony has been German Champion for years. With 200 liters per capita consumption the state of Saxony leads before Bavaria and North-Rhine/Westphalia. Saxons drink three quarters of the beer that is produced in their state themselves. The diversity of varieties is enormous, besides draft beer and Shandy the Landskron Brewery offers ten different types of beer. Public favorite, however, is the Pilsner. Therefore, Landskron Premium Pilsner is available in popular party kegs.
If you would try to describe the Landskron Pilsner, you would want to use terms like easy to drink and subtly malty. You can taste fresh, hoppy citrus and herb fragrances, and a resinous, nutty aroma. The taste is topped off by a slight hint of bitterness. This Pilsner makes the perfect beer for barbecue nights in the summer and social gatherings with friends and family. That is why it makes so much sense to offer it in a party keg. "The 5-liter-keg is such an interesting product for us, because it is associated with so many positive emotions", explains Uwe Köhler, Managing Director of Landskron BRAU-MANUFAKTUR. "Customers would buy it for special occasions they celebrate at home aiming to please their guests with some ice-cold draft beer. You cannot ask for more emotion!" Since many years, Envases manages the design of the containers and delivers the imprinted kegs with great reliability and best quality to their customers. That is why the mini keg makes the perfect match for the delicious Premium Pilsner of the brewery.
Die Landskron BRAU-MANUFAKTUR as an iconic brewery
"Despite COVID we feel like winners and we are very proud that we were able to manage this crisis quite well so far", Köhler says. "We can count on loyal customers and true fans of our delicious beer. Nevertheless, we hope that the COVID pandemic will be over soon so that we will be able to re-open the doors of our iconic brewery to the public. At least, we were able to use the time of shutdown for renovations. For this upcoming summer we have lots of great events planned, like open air concerts with stars like Katie Melua, Max Giesinger and many more. Because beer and cultural events simply make the perfect match."
The visitor center is looking forward to welcoming many guests aswell. Given its history, the charm of the old buildings and the open production line, guided tours attract a lot of visitors and made the Landskron Brewery a true tourist magnet in Görlitz. Once it will be possible again to travel and the brewery will be open for visitors again, the city will regain one of its attractions. Until then, people can rely on this special kind of beer – in bottles or mini kegs – to enjoy and celebrate at home.