2020 has been a special year for the whole world, no different for the UK. The COVID-19 pandemic had a lock on almost every country on this planet. On March 23, the British government announced a general lockdown. People were only allowed to leave the house to go grocery shopping or to work out. That was tough on the numerous pubs in the UK and at the same time on all the breweries that used to deliver beer to these localities. Not many people were as lucky as Don Townsend und Steve Pond from London, who live right above a pub and spent quarantine in the empty tavern. Most people were locked into their homes. Having a beer in their local pub was out of the question for the foreseeable future. But necessity is the mother of invention. Great Britain in COVID lockdown: beer sales as strong as ever for breweries turning to convenient 5-liter-party kegs!
Great Britain in COVID lockdown: beer sales strong as ever thanks to mini kegs in small batches, but huge amounts!
If you want to make a virtue out of necessity, you need to get creative. Pubs were closed, but the desire of the people for some delicious Ale and Craft was as strong as ever. Therefore, mini kegs from Envases with integrated tap were the ideal solution to enjoy some ice-cold draft beer in your own home. Furthermore, the packaging supplier proved himself to be very flexible and even delivered amounts as moderate as 1 euro-pallets to small breweries. That is because not every brewery is as lucky as to be listed by supermarkets and sell huge amounts.
Great Britain in COVID lockdown: beer sales as strong as ever thanks to mini kegs enabling small breweries to sell beer in 5-liter-kegs. This was done via self-pick-up from the brewery or from the local pub, home delivery or via online order. Breweries were very successful using their own social media channels to advertise their kegs. There were no limits to creativity in terms of design or print for the party kegs. Sales figures went up, because the kegs simply looked amazing and made for perfect gifts for friends and family. They still do.
UK in COVID lockdown: Wantsum Brewery in Canterbury – history made visible by party kegs!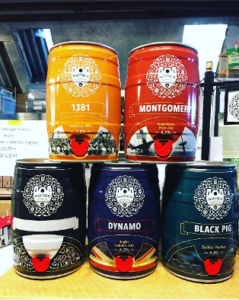 The Wantsum Brewery in Canterbury developed their very own marketing concept for their party kegs. They named them after important historic events. One keg is named '1381', the year of the Peasants' Revolt. It contains a golden IPA with a spicy citrus aroma. Another keg is named 'Black Pig', the nick name of the Spanish Armada. Its wreck has been washed ashore in Deal, after it had been sunk by the British fleet. It contains a Porter Beer after a Russian recipe. It tastes surprisingly soft, like distilled chocolate combined with a smoky malt aroma. Like delicate bitterness paired with a bloomy aroma. 'Dynamo', named after the 70th anniversary of the Evacuation of Dunkirk, is a fruity, flowery golden Ale with a slight hint of oranges and citrus.
These are only three examples of the party keg series by the Wantsum Brewery. All kegs tell their own fascinating story, they make for very nice collector's items or gifts. Furthermore, all of them are filled with excellent beer and people tend to keep the empty containers. A success story that will remain alive even in post lockdown times.
Beer sales remain solid: Grainstore Brewery and the Real Ale Club!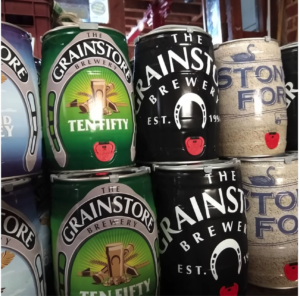 The Grainstore Bewery in Oakham brews delicious traditional British Ales. Even after COVID the small but nice brewery offers something called the 'Real Ale Club'. For a small fee of 20 British Pound the brewery delivers party kegs to their members and fills them with whatever kind of beer they like. You can even get Cider in a mini keg.
UK in COVID lockdown, Bishop Nick: on the road to success with mini kegs!
For Bishop Nick, a brewery in Braintree that is named after a famous bishop, the mini keg is a success story. For several years they used to offer neutral party kegs without any kind of container design. During lockdown they realized that they could use the kegs as an advertising tool and they created their own fascinating brands. Envases Öhringen helped them implement the designs – with great success. They have come to love the new design and most importantly their customers love it too!
Nelion Ridley, the brewery owner, gushes: "We love the new look of our mini kegs. These little friends became top sellers during lockdown. We kept reordering them in such huge amounts that it finally made sense to get creative with the design. We are very pleased with the results, they simply look fantastic. All of our beers can be bought in party kegs. They are ideal for barbecues or even smaller gatherings with friends. Filled with fresh beer, they simply need to rest for a few hours before you can tap them. This is much more fun than serving bottled beer. The kegs are good for up to six weeks on the shelf and up to 2-3 days when opened. They should be stored at a cool place and not be moved around too much. Once they are empty, you can fill them with sand and use them as doorstopper."
Conclusion: the COVID lockdown was a tough time for everyone, especially for pubs and restaurants, that had to close down for several weeks. Thanks to Envases and thanks to offering small batches of mini kegs, a lot of small breweries were able to continue making people happy with beer and keep beer sales on a solid level.