Single-use packaging continues to be a target for criticism, which might be unjustified more often than we may think. It depends on the material that is used. Obviously, it seems regrettable in the moment that the 5-litre-keg is empty and gets disposed in the recycling bin. But this only means that another 'circle of life' has started for the mini keg. It re-enters the cycle of materials in order to be transformed into new steel. Tin is a permanent material, which can be recycled in a closed cycle by almost 100%. This can be done over and over again, practically infinitely and with no loss of quality, because the inherent characteristics of tin are preserved within the recycling process. Tin recycling: a cycle just as round as a party keg!
Bernhard Kürschner, Head of Marketing and PR at Envases Öhringen, sums it up as follows: "Tin containers can be recycled over and over again. There is a very good market for this type of secondary raw material, because it is so versatile and can be recycled – endlessly – into any kind of steel product."
Tin recycling: How does it work?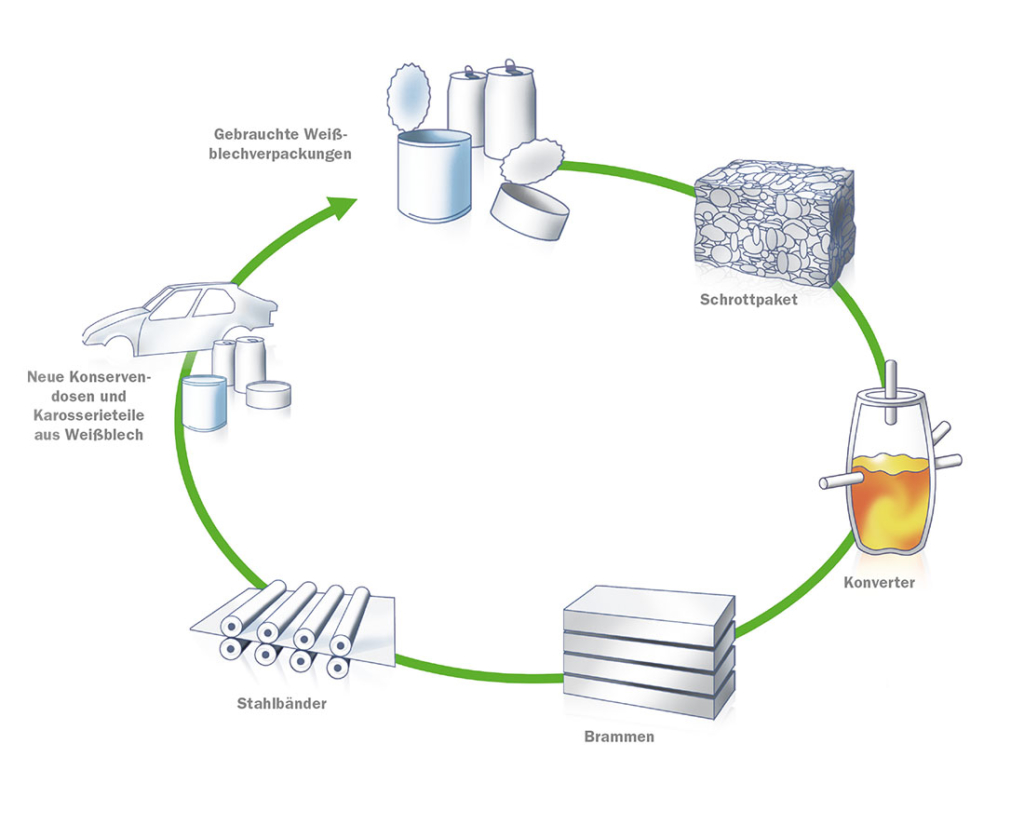 Tinplate is thin rolled steel, that is covered by a wafer-thin layer of tin. That is to prevent unwanted corrosion. Empty party kegs are precious raw materials, that can be disposed properly at home as 'light-weight packaging'. Like all tin cans the sorting and treatment plant will separate the metal barrels from the rest of the waste by using a magnet. This system can be found almost everywhere. The separated tin will be pressed into bundles and transported into the melting furnace, where it will be transformed into new steel. Compared to this, it is a lot more difficult to recycle synthetic material. One of the reasons is that it has to be sorted first in a very complex process.
Tin packaging is made to be recycled over and over again, without any loss in quality. There is a big market for this secondary raw material, because it can be turned into any kind of steel product and it can be re-used endlessly. Furthermore, the melting of recycling material saves 90% of the energy that would be necessary to produce new steel out of iron ore. Less energy expenditure also means less carbon emissions, which slows down the greenhouse effect.
Synthetic components of the mini keg – a problem for recycling?
According to packaging laws synthetic components of less than 5% of the total weight don't need to be removed from the container body, as long as there won't occur any harmful residues during the melting process and in the case that they simply cannot be separated beforehand. The synthetic materials that are used for the production of the mini keg, PP (polypropylene) and TPE (thermoplastic elastomer), don't contain any plasticizers or other problematic components. The melting point of tinplate is over 1.500° Celsius and therefore significantly higher than with other synthetic materials. The high temperature during the melting process ensures that synthetic components of tin containers burn completely and residue-free. That means that they don't cause any problems within the recycling process.
Tin – a packaging material with a future
Since the Envases party keg is made out of 95% tin, it can be recycled infinitely and without any loss in quality. Tin is light-tight and gas-tight and therefore makes for an ideal packaging material for beer and other fillings. Because of its typical keg-shape it is very pressure resistant and underlines the draft beer character on a visual level. The recycling rate of tin is as high as 82,5% in Europe, in Germany it is even more than 90%. Recycling of tin therefore has the highest recycling rate of all packaging materials and already at this day meets all European legal requirements for the years 2022 or 2030 respectively. That is why metal packaging offers high planning reliability: whoever decides to go with packaging made out of metal will be certain to be able to fulfill all future standards and to support a sustainable development of true circular economy.
Conclusion: Sustainability and environmental protection have become relevant topics for consumers. As a result, also the choice of packaging material gets challenged. No less than 85% of consumers indicate that sustainable packaging matters to them when making a purchasing decision. When reaching for a Envases mini keg one is on the safe side, because tin is the perfect material for multiple recycling. That means, that even material that has been recycled before, can be re-used again in another cycle. Consumers, producers and commerce can preserve the environment and actively reduce carbon emissions by choosing a packaging material like tin, which stands for a closed material cycle, multiple recycling and secured protection of the filling material.
Picture: Alba-Recycling