At the pub or at home – your favorite beer simply tastes best when it is tapped right from the barrel. Every beer fan knows that – not only since COVID. However, the pandemic has been a booster for the trend of draftbeer@home and therefore has helped the MiniKeg to become even more popular. In order to enable small and medium-sized breweries to benefit from this trend, Heinrich Leicht GmbH & Co. KG in Bamberg offers the right tool for them: MiniKeg-fillers for every type of use – from manual to semi-automatic. "This tool makes it very easy to fill party kegs in an efficient way. Depending on the model, our plants can fill 30 to 200 MiniKegs per hour", explains managing director Wolfgang Böhm. His company works very closely with Envases since 30 years, which is why he offers Envases party kegs as part of a set to his customers.
From manual to semi-automatic: MiniKEG-fillers for every demand
The basic model is the manual party keg filler HELBApdf, a simple, robust and easy-to-clean structure made out of stainless steel, EPDM and teflon. Rinsing and filling the container from the bottom allows for a filling process low in oxygen. Via the stainless-steel manometer, the preload pressure and the filling process can be controlled very closely. Therefore, the HELBApdf can fill roughly 30 kegs per hour. "With beer it is the same as with all carbonated drinks: pressure and temperature define the filling speed", explains Wolfgang Böhm.
In case more filling power is needed, we recommend a small plant like the HELBApro. With this machine it is very easy to fill MiniKEGs but also bottles and siphon bottles in various sizes. The HELBApro comes in two different standard versions: with one or two filling spots. The plants with two filling spots can fill up to 80 party kegs per hour, the single-spot machines can fill up to 50.
Wolfgang Böhm calls the semi-automatic filling plant HELBAfill 4S the "Mercedes" among his machines. It is perfect to fill beer and other carbonated drinks in 0.25-liter to 3-liter-bottles as well as 5-liter-party kegs. By pushing only one button, the HELBAfill 4S can fill four party kegs at the same time. With the help of three time regulators the filling process of the drinks can be further controlled and optimized. The machine is being steered mechanically-pneumatically and delivers a high performance: it fills 150 to 200 party kegs per hour.
"No matter how small or big a brewery is – we have the right MiniKEG-filler for every demand", underlines Wolfgang Böhm. Investing in such a machine makes sense in every case. Wolfgang Böhm is convinced: "The demand for MiniKEGs will remain high even post-COVID. Consumers simply love to enjoy their draft beer in the comfort of their own homes. People hold on to the things that they have grown fond of."
All-round carefree package: MiniKEG-fillers come in a bundle with party kegs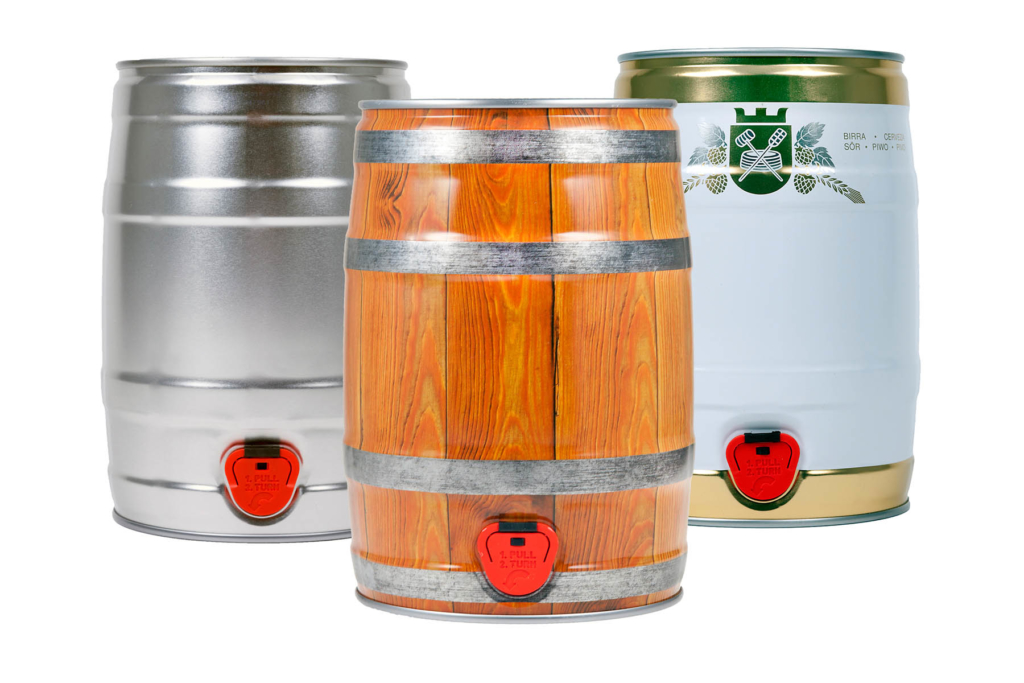 Wolfgang Böhm appreciates the constructive dialogue he has with Envases since more than 30 years: "We inspire one another and develop new ideas together – that is what makes our partnership so special." As a part of this collaboration Böhm offers an all-round carefree package to his customers: upon request he delivers his filling plants in a bundle with Envases MiniKEGs. The party kegs can be ordered in three different variations: silver, gold/white and wooden decor.
In case a larger number of kegs will be filled, the customer has the option to create his own keg design together with Envases. "There are no limits in terms of creativity", underlines Michael Tischler, who is working in the Marketing and Design department at Envases. With the free 3D-designer that can be found on the website of Envases Öhringen GmbH every brewery can easily create and play around with their own layouts for their MiniKEGs. In addition to that Envases offers graphical support to their customers. According to Michael Tischler there are many reasons why small breweries should rely on MiniKEGs as part of their assortment: "Our party keg is the ideal advertising vehicle that can make your product stand out amongst all the other kegs in the beverage store – thanks to its creative design." With a MiniKEG-filler by Heinrich Leicht GmbH & Co. KG even smaller keg amounts can be filled easily. Therefore, each and every brewery can benefit from the current trend of draftbeer@home!"