At the end of the 2021 hop harvest, Dr. Johann Pichlmaier has good news: "The brewers will get very good hops in 2021. Quality and flavor are excellent. The alpha acid values are at least average for almost all hop varieties, and mostly even above. In some cases, we even have varieties with record alpha acid values." The hop oil content is also good, he says. The harvests have also been good overall, thanks to favorable weather conditions. One sad exception: a hop farmer near Bitburg who was badly affected by flooding in early July. "In any case, there are enough hops to ensure that all orders can be fulfilled."
90 percent of the 2021 hop harvest has already been sold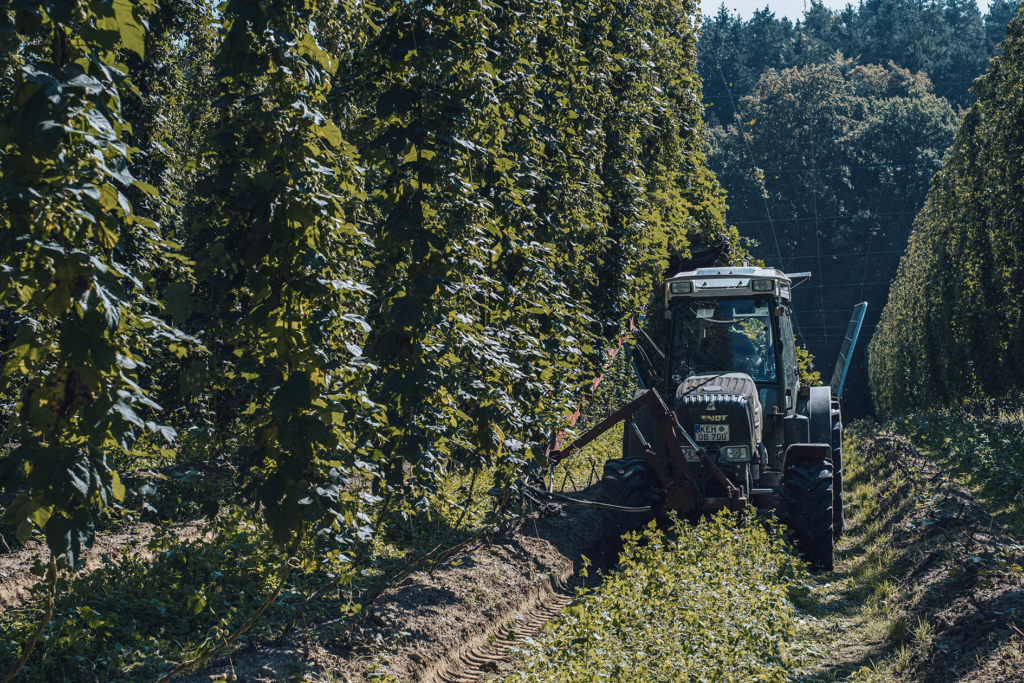 Around 90 percent of the 2021 hop harvest has already been sold at fixed conditions beforehand. For the roughly 10 percent spot volume, prices – depending on the variety – are roughly at contract level, in some cases even below, estimates Pichlmaier. As HVG's CEO, he naturally always keeps an eye on the global markets. After all, HVG is the largest hop cooperative in the world. For almost 70 years, it has acted as an interface between hop farmers and breweries, supplying the brewing industry worldwide with high-quality hop products from Germany. Services such as storage and logistics are also part of the HVG portfolio. Its brewing experts are in addition available to breweries as contacts and advisors on all matters relating to the use of hops in beer.
Hop cultivation has a long tradition in Germany, dating back to the 9th century. The soil and climate offer good conditions for it. There are several reasons why the Hallertau region in Bavaria, of all places, has become the world's hop center: passionate and well-trained hop-growing families in southern Germany, innovative companies that set up high-performance hop logistics and, last but not least, government hop research, which also settled locally and provided support. Today, the Hallertau, with an area of 2400 square kilometers, is the largest contiguous hop-growing region in the world. Brewers can rely on the quality of German or rather Hallertau hops, Pichlmaier emphasizes. "We have excellent hop varieties and very professional and successful quality assurance systems." Already on the farms, the hops are dried using state-of-the-art processes. Independent laboratories test it for crop protection residues, among other things, and the values are documented by industry-wide monitoring. "This allows us to trace the hops from the brew kettle back to the hop yard," explains the hop expert.
Around 80 percent of German hops are shipped abroad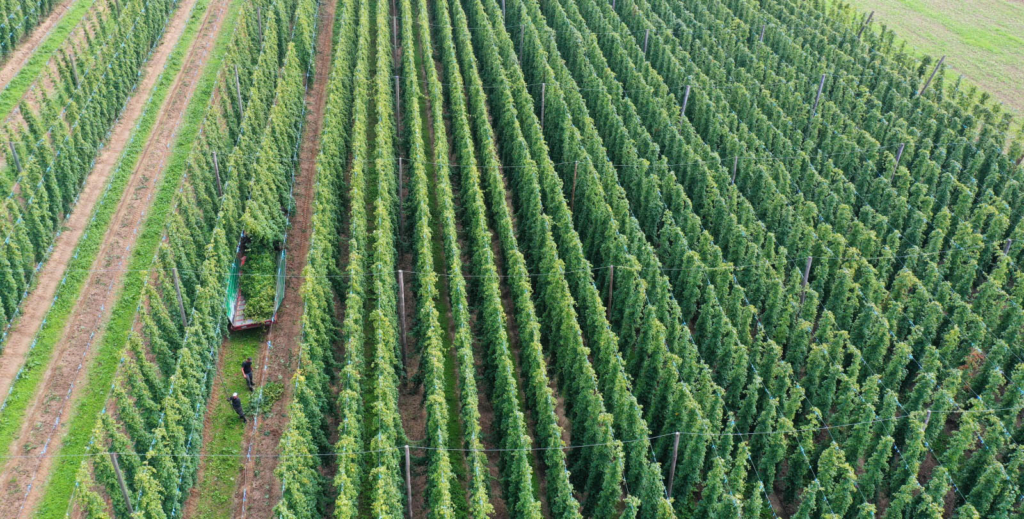 The "green gold" is now a true export bestseller. Germany exports between 75 and 80 percent of its harvest each year, 50 percent of which goes to countries outside the EU. The USA, Japan, Russia and China are the main customers. Global demand for hops has risen continuously over the past ten years. "The craft beer boom has significantly changed the hop world," Pichlmaier states. By way of comparison, while around 100 to 200 g of hops/hl are used to produce a normally hopped beer, a craft beer can use as much as 2 kg/hl! Not only does this mean that many more hops are needed than ten years ago – "craft beer has also given a huge boost to demand for a variety of types with exotic flavors."
The HVG boss is convinced that this trend will continue – even if Corona dampened it a little: Last year, global beer output fell by about five percent. Since "hop-intensive" craft beers tend to be more affected by this internationally, lower hop consumption is also to be expected. "Seven to eight percent less in 2020," estimates Pichlmaier. At the same time, however, he makes it clear that crop fluctuations can also well be in the range of plus/minus 25 percent. In this respect, the Corona influence is "within tolerable limits" and in any case very variety-dependent.
Due to the craft beer boom, exotic varieties are increasingly popular
Around 300 different hop varieties are now grown worldwide – with around ten dominating the international market.
Particularly in the craft beer sector, fruity special hops are increasingly demanded, which give the beer a touch of grapefruit or a wine-like flavor, for example. And as every brewer knows: the hops (also) make the drinkability! The choice of variety, the quantity and the time of use during the brewing process can significantly influence the bitterness of a beer, its taste and foam stability. Pichlmaier is pleased that newer beer trends, such as in the craft beer sector, are now making more use of hops in their diversity. "Traditional varieties are now being used differently in the brewing process in some cases, and new varieties are being used for special aromas."
Concentrated hop pellets, which are produced by a mechanical milling and sieving process, are increasingly being used for beers with large amounts of hops. There is no change in the aroma and bittering substances of the hops as a result. These products, known as "Lupolinator," "Lupomax or "Cryo," depending on the manufacturer, have clear advantages for Pichlmaier: "The brewer needs less material with the same effects." And they can also be stored for a longer period without any loss of quality: "Hop pellets definitely last at least five years, extracts even ten years without any difficulty."
Brewers should focus on stable hop varieties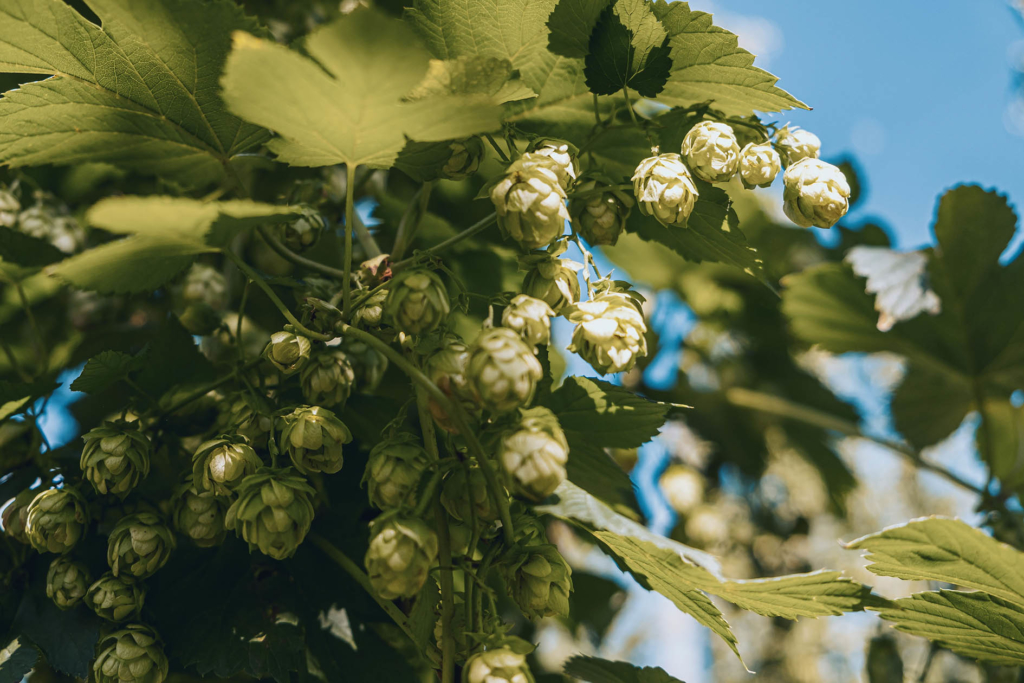 By keeping a certain amount of stock, every brewery gains a bit of independence, he said. " After all, you must not forget: Hops are a fluctuating raw material," Pichlmaier points out. It therefore also makes sense to hedge with contracts so as not to be left without raw material after a bad harvest year. This is because the pre-contract rate for the next few years is significant, so that a very high proportion of the German hop acreage is already under contract. Even though the 2021 hop harvest was pleasing, Pichlmaier advises brewers to make provisions now for the future: "Due to climate change, crop fluctuations will increase worldwide. Brewers should therefore focus on particularly stable hop varieties in the future and adapt their recipes and brewing processes accordingly."
*Dr. Johann Pichlmaier has been Chairman of the Board of the Wolnzach Hop Growers' Cooperative (Hopfenverwertungsgenossenschaft Wolnzach) since 1998, where he was previously Managing Director for three years. From 2002 to 2018, Dr. Pichlmaier also held the office of President of the Association of German Hop Growers. For many years, he was a member of the Board of the Society for Hop Research, Chairman of the " Permanent Working Group on Hops" (Ständige Arbeitsgruppe Hopfen) at the EU Commission in Brussels and, from 2003 to 2019, also Vice President of the International Hop Growers' Bureau (Internationales Hopfenbaubüro).