Tradiční pivovar v Rakovníku, a.s. is one of the oldest independent traditional breweries in the Czech Republic. The beer is brewed using traditional methods and high-quality regional ingredients. But what is particularly interesting is that the "Pražačka" brand is especially popular in Eastern Europe. What does "Pražačka" tell us about beer sales in Eastern Europe? And why is this Czech beer brand so popular in Russia in particular?
Brewing tradition in Middle Europe: The Czech Republic
Brewing beer has been a tradition in the Czech Republic for centuries. Similar to Germany, beer was already produced there in monasteries in the Middle Ages. Today, there are around 470 different types of Czech beer. In 2019, the Czech Republic had a total of 617 breweries, with beer production totaling 21.5 million hectoliters, about 5.9 million of which were for export. Additionally, Czech beer consumption per capita was 142 liters in 2019, according to Statista. This puts the Czechs ahead of Germany in beer consumption with 100 liters, followed by Poland, Lithuania, Croatia, Romania, Slovenia, Estonia, and Latvia. A closer look at beer sales in Eastern Europe is therefore definitely worthwhile in order to understand this traditional market in more detail.
Beer sales in Eastern Europe: Tradiční pivovar v Rakovníku Brewery
The Tradiční pivovar v Rakovníku brewery was founded as early as 1454, and today it produces three brands of beer. Initially, the brewery became known for its beers under the Bakalář brand. In March 2011, two more new beer brands were introduced – Černovar and Pražačka. According to Valentina Nikulina, the brands and their associated varieties differ not only in their recipe, but also in their philosophy. Thekey is that this diversity allows the brewery to provide each market with the right solution – depending on personal taste.
Each of the three beer brands captivates with individual characteristics. Bakalář beers are characterized by their full hoppy bitterness, which is highlighted by the color and the rich firm foam. Černovar is a traditional Czech lager that stands out for its rich color and balanced taste with a slightly bitter note. Pražačka, on the other hand, is a traditional pale beer. It impresses with a refreshing taste, light golden color and a pleasant yeast aroma with a slight bitterness. This makes the beer light, drinkable and refreshing, striking a perfect balance between sweet and tart.

Czech beer as a trademark of quality for unique taste
In 2012, the brewery was granted the right to use the protected geographical indicator "Czech Beer" for its products. This refers not only to the specific geographical location and origin of the beer, but also to the accompanying characteristics and quality. Valentina Nikulina explains, "In order for us to officially identify ourselves as "Czech beer," we have to meet many requirements. The production facility, raw materials, parameters and technology are carefully checked, such as the decoction method or two-stage fermentation."
The brewery has changed hands several times in its long history, yet the level of quality and tradition has been maintained, and production has also been constantly increased from year to year. According to Nikulina, there is one main reason for this: "During the last decade, the brewery has experienced a renaissance with the new owner, as a lot has been invested in new technology, equipment and marketing." Thus, the brewery is very well equipped, while preserving traditional practices such as open fermentation of the beers.
Pražačka or "The Prague woman"- pompous label with authentic content
Pražačka stands out not only because of its direct local reference to Prague, but also because of the label's eye-catching design, which is very different from the brewery's other beers. When asked about the vision and concept for Pražačka, Nikulina replied, "Pražačka makes a clear statement with its playfulness and positivity, which is also clearly reflected in the way it is packaged." Pražačka is a symbol of the Czech lifestyle. The graphical realization together with the authentic production of the beer are the reason for Pražačka's success on international markets, especially in Russia the beer is popular. Many Russians have great sympathy with the city of Prague. In this context, the MiniKEG from Envases plays an important role. All three beer brands are available in 5L kegs, partly because the kegs offer a good opportunity to feature unusual designs and limited editions.

Beer sales in Eastern Europe: Export hit " The Prague woman" ("Die Pragerin") in Russia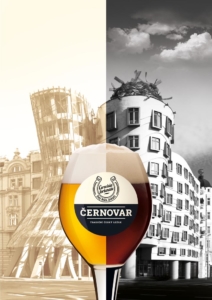 Tradiční pivovar v Rakovníku is one of the largest beer exporters in the Czech Republic and has a large share of international sales among independent breweries. The brewery's biggest beer sales are in Slovakia, Russia, Ukraine, Kazakhstan, Hungary, and Bulgaria, among other countries – predominantly Eastern European markets. This can be explained not only by history. Each beer brand has its niche: Bakalář is very successful on the national market, Pražačka in Russia and Černovar in Baltic countries. This is due not least to the different flavors of the varieties. Whether rather bitter or smooth, all tastes can be catered for with the wide range of products. As a monobrand, the Prague woman stands out here: 90% of its Eastern European exports go to Russia, Belarus and Ukraine alone.
But like many others, the brewery is currently affected by Corona measures: "The impending lockdown makes planning difficult at this time," explains Nikulina. " All we can do is continue to produce high-quality beer with the typical Czech taste and thus make a contribution to traditional Czech beer culture, even beyond national borders."