A lot of good products start with a crazy idea – and with partners that believe in this idea and support it. That is what happened at Customized Drinks GmbH and its brand 'Braufässchen' ('home-brew keg' in English). In 2012 three ambitious students decided to develop a home brewing kit and bring it to the market. They found the right partner for that endeavor in HUBER Packaging, the former Envases. It started as adventurous experiment, but it is well-established in the market nowadays. Brew your own beer in a party keg: home-brew kegs and Envases – a true success story!
Home-brewing in a party keg! From a crazy idea to a finished product.
The whole story sounds like a modern fairy tale. Dominik, Ping and Wolfgang, three college students, wanted to brew their own beer at home in the most simple and quick way possible. Their goal was: a good beer, as easy and as quickly as possible. Therefore, they aimed to shorten the regular time period of six to eight weeks that is usually takes to make a beer to only seven days. Ideally, it should then be possible to tap the beer directly from the brewing container it was made in. The dream became reality and today they own a well-established company in Munich.
The party keg as fermentation container and authentic beer storage
Home-brew kits in glass containers already existed on the market. But with those, the beer had to be bottled after it was done in order to store it appropriately and to be able to offer it to guests. That makes things a little complicated and can also have a negative influence on the taste. For their home-brew keg the founders wanted to use a 5-liter party keg as fermentation tank for the entire brewing process.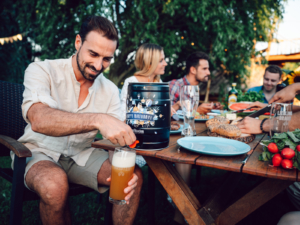 That way you do not only have an appealing container, but you can also tap the beer directly from the keg it was made in once it is done.
Home-brewing in a party keg: Envases as loyal partner in finding solutions
Once you dive into the topic of 5-liter kegs, you will learn about market leader and product developer Envases rather sooner than later. But the company had some reservations in the beginning. Because it may sound easy, but the choice of a party keg as fermentation container is actually quite tricky. During the brewing process sugar is being decomposed and as a result a lot of carbon dioxide is being produced. That is a threat to the pressure stability of the tin container. Therefore, they had to find a solution. Envases showed up as reliable partner for this challenge. They provided numerous kegs – free of charge – to the students in order to experiment and perfect their development. With great success! The solution was found by installing a relief valve, which they created themselves. That way excess carbon dioxide could be released without risking letting outside air get into the keg. In doing so, the fermentation process remained under control and the beer did not lose any of its quality or taste.
It is all about the right mix – a proper formula for brewing beer quickly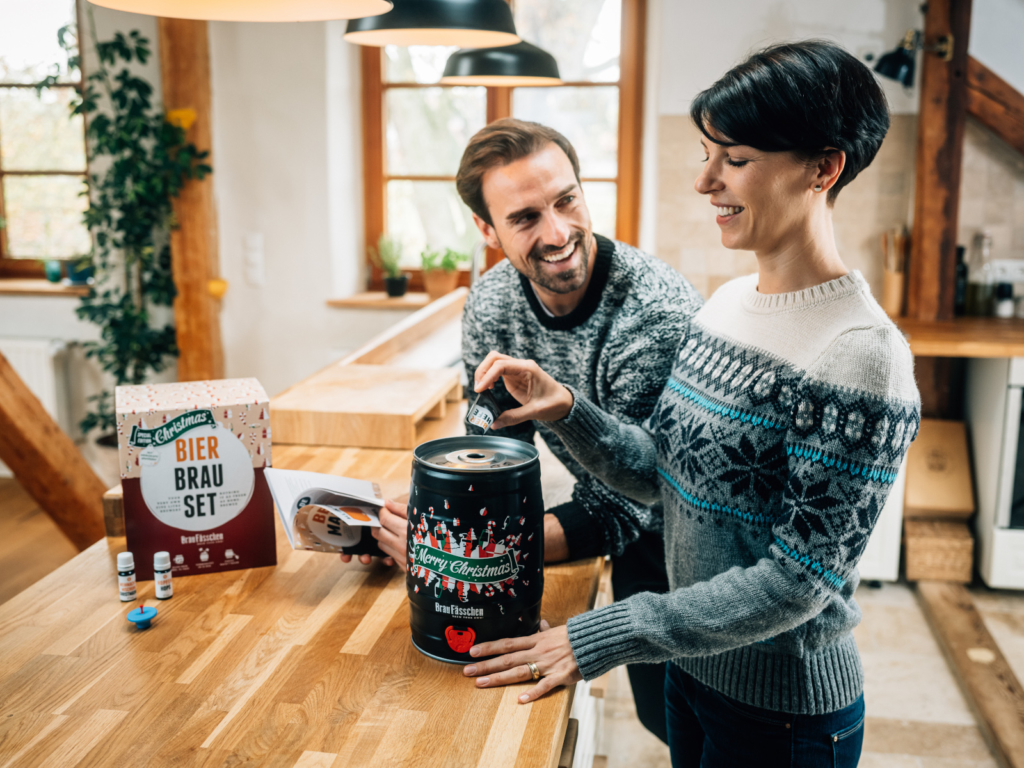 To home-brew beer within seven days, the original procedure had to be accelerated significantly. The founders of the home-brew keg took on that challenge and tried many different ways to achieve that. Among others, the solution was found in working with malt extract, which has a huge share of sugar. Mashing and lautering, which means cooking the beer wort, is all done by the home-brew keg. The malt extract simply is highly concentrated kettle full wort, that has been thickened to a syrup-like consistency. Instead of hop pellets, which would have to be cooked in a complex procedure, finished natural hop aroma is being used. Together with students from the University of Weihenstephan they invented a special type of yeast that can be processed at room temperature in order to ferment the high sugar content of the malt extract.
All of these changes resulted in a significantly accelerated brewing process. That way, even beginners are able to home-brew their own beer within seven days by following a few simple steps. What is important: There are no artificial, chemical supplements used, just a natural fermentation process that has been in place since hundreds of years. Thanks to the simplification of the processes brewing beer just becomes faster.
Success thanks to innovation and great partners
What started out as an experiment, became a well-established company by now. The home-brewing kit from BrauFässchen makes for an ideal gift for beer fans and a lot of beer retailers sell them online, in store or in their own web shop. The company has been loyal to its partner Envases ever since.
"The keg is of significant importance for the final product", explains BrauFässchen's Managing Director, Susanne Kistler. "It is almost an iconic element, in which the brewing takes place and from which the final product is being drawn. It sits for a week within the home of our customer and even after that time most of them don't throw the keg away because they want to keep it as a souvenir."
Envases does not only deliver the containers, but also takes care of the entire keg design and the printing. The company always gives great advice in terms of design options and layout and the results are flawless without exception. Furthermore, Envases is very flexible in terms of purchase quantity. It is very important to us to have a reliable and experienced partner at our side. Besides that, sustainability matters to us as well. BrauFässchen counts on regionality. Envases Öhringen produces in Germany and therefore the kegs have short transportations. Furthermore, more than 90% of tin containers are being recycled in Germany – more than any other packaging material. These measures save a lot of energy and make for less CO2 emissions.
Brewing beer – quick, easy and in the comfort of your own home. That was the goal of the three students who developed BrauFässchen. The experiment turned into a huge hit and the company is very happy about its success. The whole crew is thankful to have found such a loyal partner in Envases right from the start.
editorial note: The Braufässchen company is based in Germany and offers its home-brewing party kegs only within the EU.