In terms of hop and malt the passionate 
beer sommelière Anja Kober-Stegemann
knows her stuff: not only is she very well informed about the hottest beer trends for 2022, she can also recommend the perfect beer pairing for whatever dish you put on the table. We talked to her about all things beer: why non-alcoholic beers become increasingly popular, how to get women excited about beer and what a nicely shaped glass and the mini keg have to do with perfect beer indulgence
Drinking beer professionally – for a lot of people (especially men) that would be a dream come true!
Mrs. Kober-Stegemann – how come that you decided to become a beer sommelière?
Anja Kober-Stegemann: For almost 25 years I was working for huge corporations in the telecommunications business, many of them in a leading position. At some point I felt like there must be something else out there for me. It was time for a change – and this time I wanted to follow my true passion. In 2016, it was more of a coincidence that some friends of mine pointed me towards the changing beer market. At this point I would not have called myself a passionate beer drinker. But my interest had sparked, and I found myself standing in the beverage store basically buying their whole selection. Back at home, I started tasting them one after the other.  The multitude of flavors was a revelation for me and ignited my passion for beer! I decided to undergo an apprenticeship with the IHK, the German Chamber of Industry and Commerce, and become a beer ambassador. Afterwards I was trained as a beer sommelière at
Doemens
. Ever since receiving my degrees, I give my best to get people excited about this incredible beverage in my brewing courses, beer tastings and seminars.
A tradition kept since thousands of years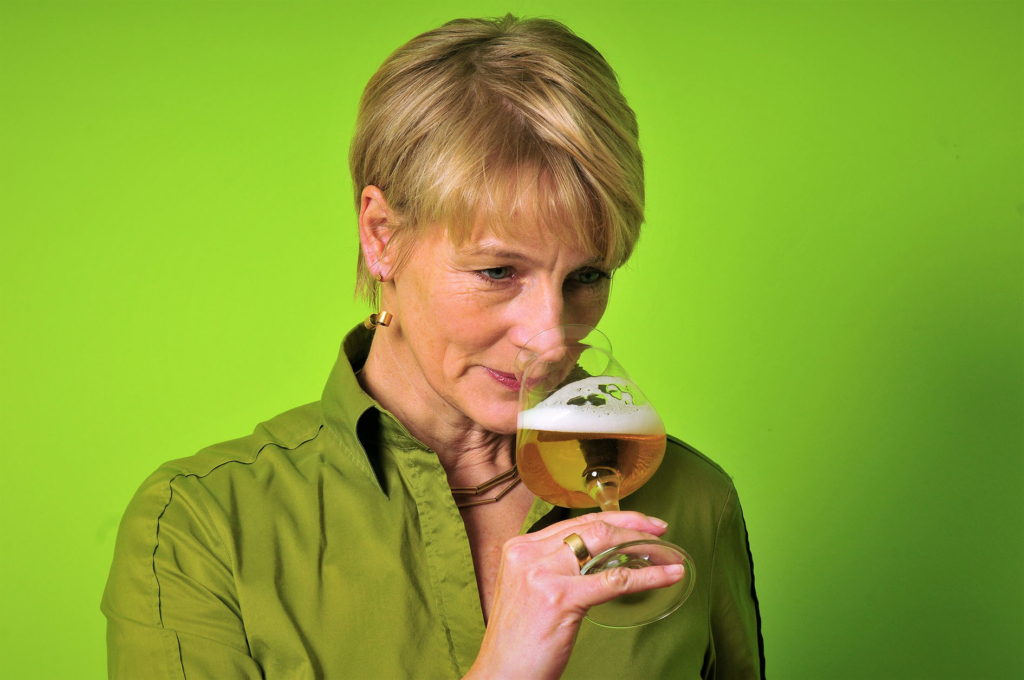 "Usually, I do not drink beer at all." That is something you would often hear women say. Beer is known to be a "beverage for men". Why is that and has it always been like this?
The main reason for this is that women are being socialized according to this mindset: all beer advertisements are targeted towards men, in movies women would almost never drink beer, at events like company or private parties women would not get asked: "what kind of beer would you like?" but rather "Hugo or Aperol Spritz?" or "red or white wine?" Even though brewing beer used to be a craft mainly performed by women: Luther's better half Katharina von Bora, Hildegard von Bingen and many other famous women were very good at it. Historians are certain that people used to brew beer since more than 10.000 years ago. And for 9500 years of that time mainly women were the ones doing it! Only 500 years ago, it was still common for a brewing kettle to be part of the dowry. When I look at the industry and beverage preferences of today, I often ask myself: at what point in history did we take the wrong turn?!
Which types of beer would you recommend to women who usually do not drink beer?
On a general basis, I can only recommend – for women just like for men – to simply start trying different types of beer in order to find their favorite one. A lot of women do not seem to like the more bitter taste of a Pils for starters, but there are so many more nuances of taste out there – like tangy, sourly, or sweet types of beer and, of course, the huge variety of craft beer. The beer trends for 2022 move away from the classic types that you would mainly drink to quench your thirst, but more for indulgence and a conscious culinary experience. The right glass is also of special importance to me – and for a lot of women by the way. A heavy stein is not very appealing, except it contains a cold lager maybe. But you can also enjoy beer in a stylish way, with a delicate, beautifully shaped glass in which the aroma of the beer can unfold in an ideal way. Offering the right glass when serving a beer is a very smart move that more and more breweries know how to make these days.
Beer as an exclusive beverage for indulgence: this is how to win over a female target group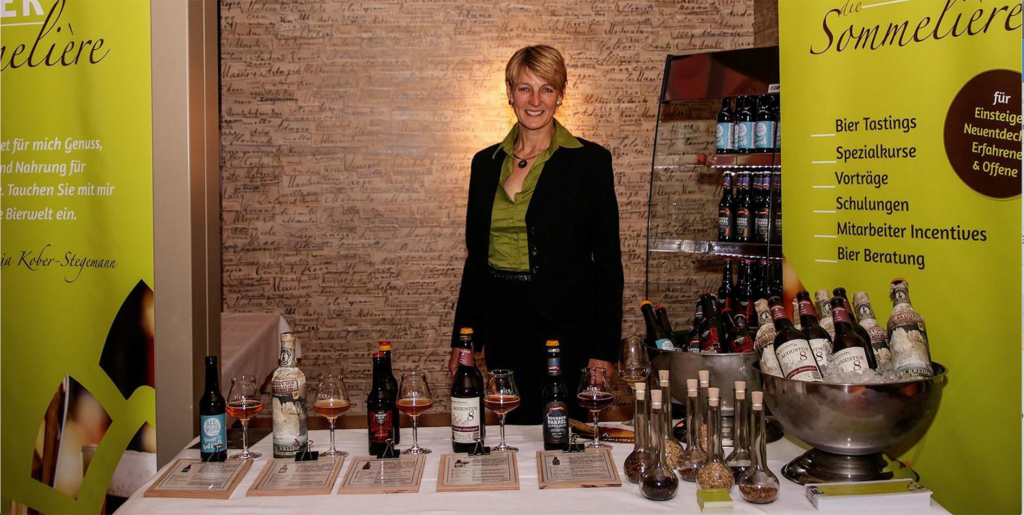 Does it make sense for breweries to focus more on female target groups these days?
I am 100 per cent certain that it does! But simply adding some 'pink labels' or something like this is not the way to go here. It is more about getting women excited about the variety of taste that beer has to offer. It has become more and more popular to consciously pair the right wine with a nice meal. You can do that with beer as well! In order to do so, it is important to make women aware of that fact – because many times it is them who are in charge of meal prepping and planning. I see this surprise effect very often during the tastings I offer – especially with women: "Wow, THAT is a beer?! I did not know that it could taste like that!" When you manage to make people experience that you do not necessarily have to drink beer to look for a certain 'effect', but for a more exclusive and tasty experience, it becomes easier to get women excited about it that usually do not drink beer.
What is your favorite kind of beer?
That is a very easy question for me to answer: always the next one! Simply for the reason that there is such a huge variety of aroma and taste out there – I love to allow myself to be surprised by that over and over again.
Beer trends 2022: sourly-tangy types are 'en vogue'
What are the beer trends for 2022?
Currently, bottom-fermented types of beer are very popular, cold hopped in fermentation. These kinds of beer tend to develop a stronger, more fruity aroma. Sour beer is a big trend as well. In order to brew these sourly-tangy beers, just like Berliner Weiße, lactic acid bacteria are being used for fermentation. They give a very distinct taste to the beverage – which a lot of women seem to like. And the hype about the whole range of craft beer has not tapered off at all. In addition to all the "craziness" of the past years, more traditional types like Pils and Lager are being added to the mix – but with a certain twist.
What about non-alcoholic beer?
There are a lot of things happening right now, especially in the English market. But also in Germany non-alcoholic beer is becoming more and more popular, its market share is growing constantly. Over the past few years not only the diversity of varieties but also the range in taste have made a huge step forward: Alcohol-free beer does no longer taste like simple malt beer, but just as good as beer that contains alcohol. That is because there are so many new procedures in place these days that allow the professionals to brew beer without alcohol – and still make the malt and hop aroma develop. Thanks to that fact, it has become possible to win over new target groups that were not open to beer before: like very health-conscious people – or women. Simply because of the fact that due to pregnancy and breastfeeding a lot of them have to tend to alcohol-free drinks for several years of their adult lifes. Therefore, non-alcoholic beers that come in a variety of tastes come in very handy!
Adventuresome small breweries become pioneers for beer trends of 2022
How come that especially small breweries seem to be pioneers in terms of beer innovations?
Big beer brands very often stand for a specific type of beer. The more established a brand is, the more difficult it is for them to try something new. You can easily see that in the craft beer scene. A lot of the big breweries have a craft beer section nowadays, but it's giving them a hard time – especially differentiating it from their core brand. Smaller breweries on the other hand are way more flexible and open for experiments – and therefore, more prone to become pioneers for the beer trends of 2022. It is easier for them to try new flavors and produce smaller batches.
Why does beer taste better from the tap than out of a bottle?
Draft beer has a better "drinkability" because it is more carbonated due to the fact that it is tapped directly from the barrel compared to pouring it from a bottle. That simply makes draft easier to digest.
Tapping a party keg as a social experience
Very popular during COVID and one of the beer trends of 2022 for sure: with a 5-liter-party-keg everybody can enjoy some cold draft beer within the comfort of their own home. What is so special about the mini keg in your opinion?
Beer does not benefit from being exposed to light or oxygen. Therefore, the mini keg by Envases is ideal to store beer for a longer period of time. Especially with beer you do not have to worry too much about the expiration date. Beer basically cannot turn bad. It will just change its color and taste over time. But, just like with wine, this can also be a good thing. Especially malty beer types with a higher content of alcohol will taste extra-velvety when they have been stored for several years. Stronger, hoppy beers, however, should be consumed rather quickly, like Pils or Koelsch.
Sharing a glass of beer and even more so, pouring you own beer from the tap is a special social experience. How important is this aspect in terms of beer indulgence?
Very important! It turns out that it is very hard to differentiate between draft and bottled beer in blind tastings. That means that the atmosphere and the social experience is a huge part of what makes draft beer so special. I remember the moment very vividly when I had my first glass of draft beer – I felt like a queen! Tapping beer is an act of conviviality, it evokes a certain festive atmosphere and a sense of community. Nobody would sit alone at home with his 5-liter-keg and tap his own beer.
Your perfect moment of beer indulgence – how would you describe that?
A sunny evening, not too hot, a beautifully shaped glass in my hand, a perfectly cold, slightly fruity beer, toasting to my husband and some friends. A "sip of the Caribbean in a glass", so to say.  That is what a perfect moment of beer indulgence means to me.