Germans are drinking less and less beer, and domestic sales have been falling steadily for years. This makes it all the more important for breweries to address their target groups, achieve greater reach, and win new customers. Those who want to survive in the competitive business environment would do well to look for allies. This is precisely the aim of cooperative marketing in beer, which offers both small and large breweries a wide range of opportunities.
How does cooperative marketing work for beer?
Cooperative marketing (also known as cross-marketing or marketing cooperation) is a marketing tool in which two (or more) companies join forces to jointly promote their products. The aim is for both partners to benefit from the cooperation in exactly the same way as their respective customers.
After all, cooperative marketing pays off for companies in many ways. By using all the channels of both companies, the joint advertising increases reach. In addition, customers of company A, who were previously unaware of company B, become aware of the latter's products as a result of the cooperation – and vice versa. Especially for small or medium-sized companies that have limited marketing options, cooperation opens up entirely new possibilities: By sharing the costs, both partners can realize larger projects together than each could on their own. In a successful cooperation, both partners benefit from each other in terms of image and know-how, thus strengthening their own reputation.
It all depends on the target group
A prerequisite for successful cooperative marketing is that both cooperating companies pursue the same marketing goals. In addition, their respective products and services must match. Above all, the target group that both partners want to address should be the same or at least very similar. In the case of cooperative marketing for beer, this means that only companies whose target group also drinks beer are attractive as cooperation partners for breweries. Of course, a potential cooperation partner must not represent direct competition, but rather offer something that complements the performance of its own company.
As the market leader, the Krombacher brewery is once again demonstrating how successful cooperation marketing in beer works. Since this year, Krombacher has been a cooperation partner for several festivals in Germany, including for the first time the legendary Wacken Open Air, which is one of the world's largest metal events with almost 80,000 visitors.
Customers also benefit from a long-term partnership
It's obvious that heavy metal music and beer go together perfectly. The brand cooperation should therefore not be a flash in the pan, but a long-term partnership from which customers and fans of both companies will benefit.
To be successful, a cooperation must above all be highly visible – especially among the relevant target group. As far as cooperation marketing in beer is concerned, the party keg offers the best conditions for this. "The 5-liter party keg has by far the largest presentation area of all the containers," emphasizes marketing manager Michael Tischler of the minikeg world market leader Envases. This makes it the ideal advertising medium, allowing plenty of scope for design.
Cooperation marketing in beer: Krombacher puts its faith in Wacken minikeg
This is exactly what the Krombacher brewery took advantage of in its cooperation with the Wacken Open Air and, in addition to a limited 0.5-liter can of Krombacher Pils, also created its own Wacken party keg, which was produced by Envases. One side of the keg features the Wacken logo with the typical cattle skull on a black background, while the other side is adorned with the Krombacher lettering and the corresponding emblem on white. This limited festival special edition clearly shows how successful cooperation marketing can work with beer featuring the minikeg!
But other breweries also have good ideas for cooperation marketing in beer – such as the private brewery Gaffel from Cologne. For twenty years now, Gaffel and the soccer club 1. FC Köln have enjoyed a very intensive partnership that extends beyond the professional team and includes many fan projects of 1. FC Köln. Soccer and beer – as we all know, they go together perfectly. "Our partnership includes joint marketing campaigns in retail and gastronomy," explains Thomas Deloy, Head of Marketing and PR at Gaffel. "We also actively approach fans outside the stadium." The mini-keg also plays a role in this. The annual fan kegs in cooperation with 1. FC Köln have become a tradition and are coveted collector's items.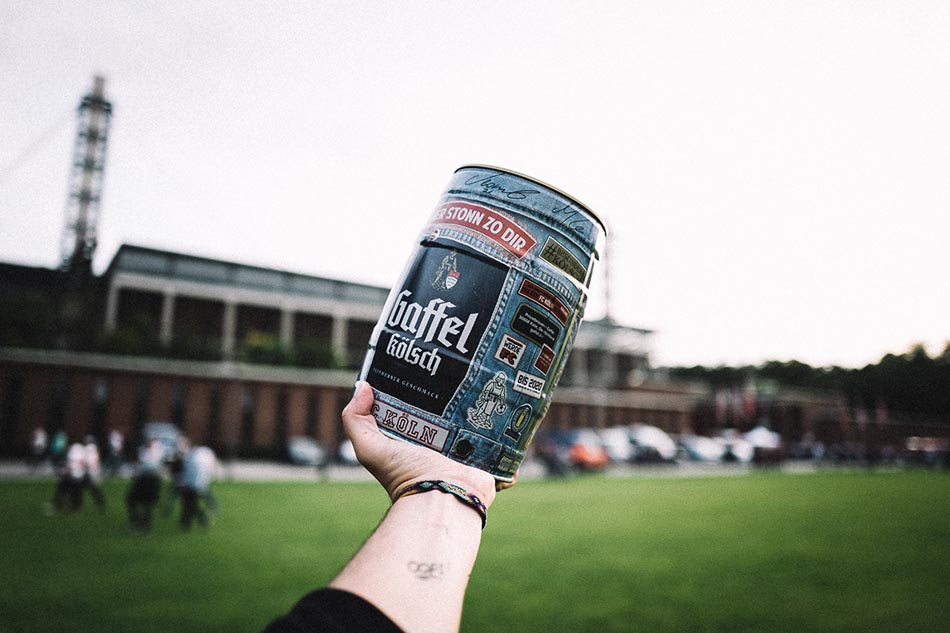 Beer and soccer – that goes together
"Sport-wise, we have experienced a lot. But it has become clear that this partnership is not just a matter of strategy. It's a matter of the heart," emphasized Gaffel CEO Heinrich Philipp Becker at the latest contract extension in the summer of 2021. That"s another key to successful cooperation marketing: Ideally, the two cooperating partners must also be on good terms with each other.
This was the case with the Nuremberg Schanzenbräu and the Franconian stand-up comedian Bembers. Here, the friendship between brewery boss Stefan Stretz and Nuremberg artist Roman Sörgel, alias Bembers, was ultimately the initial spark for a marketing cooperation that has existed since 2013. The talk is of the "Bembers Bombe," a five-liter party keg filled with Schanzenbräu Hell, which is intended to create a "fantastic atmosphere" (in German: "Bombenstimmung") among fans of the Nuremberg comedian and beer lovers.
All these examples make it clear that cooperation marketing for beer is worthwhile – for the regional family brewery as well as for the international major corporation! The rule is: commonalities connect – whether in the form of personal or regional proximity, similar corporate history or structure, or identical values. And if the target group is the same, there's nothing standing in the way of successful cooperative marketing.