The future belongs to craftmanship. That is what Envases firmly believes in and why they decided to foster the craft of brewing in a long-term commitment. To support the aspiring brewers of the future in Kulmbach the company sponsored 1500 mini kegs for the brewing-students-competition "Bierwerk 2021". In collaboration with the company Leicht in Bamberg they were able to add a modern filling machine to that.
Supporting brewers of tomorrow: Kulmbach as a competence center for food and beverage!
At the summery Mini-Beerfest of Kulmbach's Kommunbräu, where several VIP guests from the political and economic scene attended, Mark Böhm, Max Beckert, Johannes Brügger and Yannick Herrmann were all smiles. Just like county commissioner Klaus Peter Söllner – since from now on he will be giving away the winning beer of the four student brewers in a stylish and modern 5-liter-keg from Envases as present for county guests. "It was definitely worth it to invest one million Euros in an educational brewery several years back", says Klaus Peter Söllner. Together with several world market leaders from the industry Kulmbach was able to achieve recognition as a competence center for food and beverage beyond its county boarders. He is very excited about the fact that this attitudes is being lived daily at the local vocational school center as well: "The competitions definitely are highlights for everyone."
Alexander Battistella, Head of Berufliches Schulzentrum Kulmbach, the second largest vocational school center in Upper Franconia, predicts a golden future for craftmanship. But at the same time he is worried about the lack of apprentices. He is hoping for joined support by politics and economy in order to be able to continue offering apprentices and supporting craftmanship.
Envases supports brewers of the future
For this reason, he is especially thankful for the support received by Envases. He sent a special thanks to his consultant of the beverage department at Envases, Jochen Weber. It was his deep connection with Kulmbach that made the donation in kind possible in the first place. "Such a contribution is extremely special and valuable to us", comments Battistella. "Without it we would not be able to fill our winning beer into such a great container".
"For us as a company in the brewing industry it is obvious how important it is to support the brewers of the future", emphasizes Envases sales director Alexander John, who was delighted by the event. "In doing so we think about our own future as well", admits John with a twinkle in his eye. "The student brewers of today will be the professional brewers of tomorrow. To provide them with positive experiences with our mini keg can only be beneficial for us. We will always need new clients."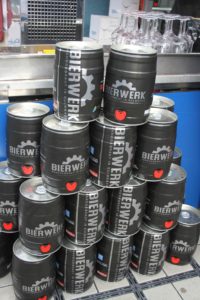 Beer and bratwurst – a perfect match!
That evening, all guests declared unanimously that the hand-brewed BIERWERK-winner beer "Frostis Winterseidla" tastes just as good in the summer.
It has an amber-colored and creamy, fine-pored head, and it carries a slight taste of smoke and caramel. It goes very well with the three types of bratwursts that were created for the "Fleischerswerk 2021"-competition by the butcher students. Crowd pleaser of the evening was the 'farmer's bratwurst', followed by the 'Maibock-bacon-bratwurst' and the lemon bratwurst. One BIERWERK-mini keg was given away among the participants of the taste contest.
The looks of the mini keg were a big hit as well. It is branded and designed in a very stylish way. Thanks to the new filling plant Kulmbach's brewing students will be able to fill their new creations into neat party kegs of Envases.  That way, the beer can be contained and transported perfectly – a great for proof for excellent brewer's craft from Kulmbach!