Even though he now sits in the executive chair, Jochen Massa has not forgotten where he comes from. On a normal working day, one of his first stops is always the production area. He laces up his safety shoes and makes his morning rounds through the halls. He greets everyone personally, makes friendly inquiries about the children, jokes about the weather, and exchanges information about the weekend's district soccer league results. It's a half-hour he's happy to take time for, however tight his schedule may be. As Vice President Cluster Central and Managing Director of Envases Öhringen, it is important to Jochen Massa to remain approachable and reliable. But that doesn't mean being "everybody's darling," as he emphasizes. Honesty, openness and trust – these basic values define his management style. In any case, he is convinced: "Leadership cannot be learned. You simply have to live it."
Instead of perfection, Jochen Massa prefers to focus on authenticity and perseverance. "The hallmark of a winner is not that he always succeeds, but that he keeps going even in difficult times." This attitude has taken him to the top within a very short time. On September 22, he took over as Managing Director of Envases Öhringen GmbH, ushering in a new era.
Envases Managing Director comes from within the company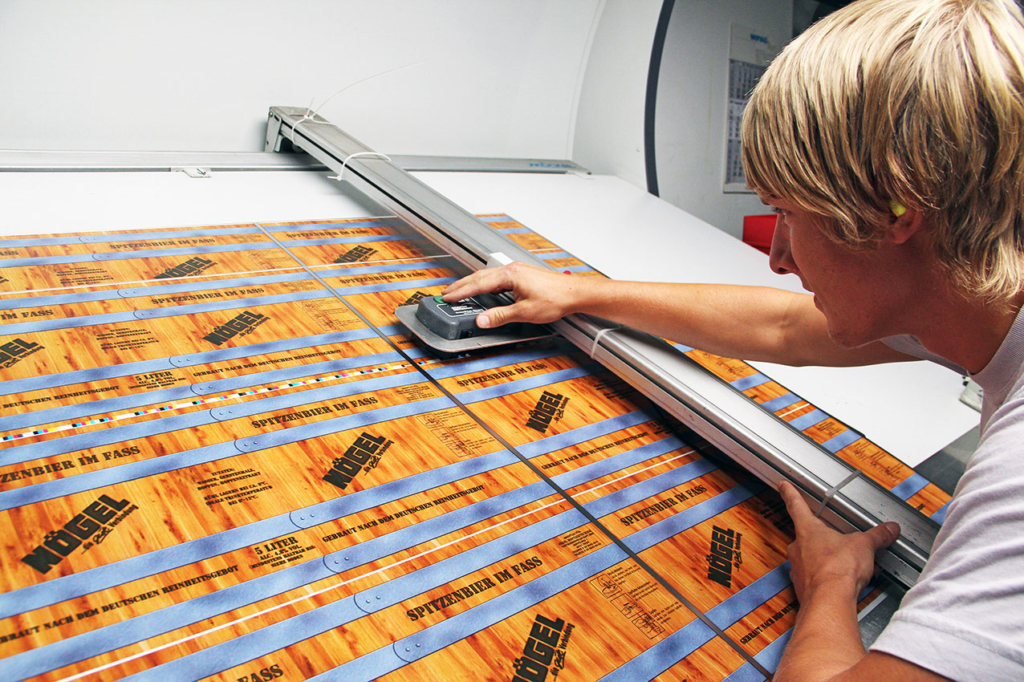 Jochen Massa during his apprenticeship at Envases.
Jochen Massa has known the company for almost 20 years. In 2005, he began his apprenticeship as a printer for the company and worked his way up the ranks: From 2014, he was in charge of the print shop, was responsible for various internal projects, in 2021 he took over the plant management for the Industrial division in Öhringen, and from March 2022 he was also in charge of maintenance, before being appointed General Manager on September 22, 2022. The fact that "the new guy at the top" is virtually "an old hand from our own ranks" is well received by the workforce – even if some of them had to get used to dealing with him first. "Some have even asked if they can continue to call me by my first name. Jochen Massa has to smile at the thought. "What counts for me is mutual respect – and that doesn't depend on age or form of address."
A boss is only as good as his employees – Jochen Massa deeply agrees. After all, without his "great team" the development of recent years would not have been possible. After the takeover by Envases Europe in 2021, the former Huber Packaging Group in Öhringen is back on track for success and has developed very positively in a difficult market environment in recent months.
"We have a fantastic team in Öhringen that has successfully implemented major investment projects since the takeover by Envases and is already working on new ones," says Jochen Massa, who praises the commitment of the employees on site. First as a team member and more recently as team leader, he has been able to accompany challenging and important projects during this time, which were only possible thanks to a joint effort by everyone involved. "I can say with conviction that I am extremely proud to be part of the team and thank everyone who has contributed to its success. This makes me confident that we will make the most of the opportunities ahead and continue to expand and successfully manage the site in Öhringen."
Goals: Expand portfolio, enter new markets
After all, Jochen Massa and his team still have a lot of plans for the future – in the industrial sector as well as in the beverage sector. Even though Envases has benefited from Corona with its packaging products, the current crisis in the energy and the economic sectors has already completely changed the situation. "We are feeling the uncertainty of many customers through a volatile order situation," explains Jochen Massa. In such a situation, he says, it is all the more important to be close to customers in order to know their needs and to understand the market developments in detail.
"We want to and are going to open up new markets," says the Envases Managing Director confidently, with his sights clearly set on expanding the product portfolio. " For this, it is important that we always have the best technology that is currently available here at the Öhringen site, optimize processes, continue to automate and expand the value chain." However, no one has to worry about their jobs at the moment.
The takeover of the Öhringen-based company by the international packaging giant Envases, which employs 10,000 people on four continents, was viewed critically by some within the company and the industry. Jochen Massa, however, is convinced: "Nothing better could have happened to us." After all, this was the only way to finally break the innovation logjam and return the company to a top position. "After all, ideas have always been there – just not the means." That has changed in one fell swoop thanks to the affiliation with Envases: "In the last 1.5 to two years, more has been invested than in the years before."
Clear commitment to the Öhringen location
Jochen Massa sees this clear commitment to the Öhringen site as an important signal – both to the employees and to the region. Further strengthening public perception and identification with the company is a matter close to his heart. After all, Envases Öhringen GmbH is the largest employer in the city and one of the largest in the Öhringen district. In order to recruit trainees and new skilled workers, Envases is trying to expand its local presence even further – whether by participating in regional training fairs or minikeg banner ads at local soccer fields. "We simply have to become better known and even more attractive to different target groups," Jochen Massa sums it up. "And that also includes emphasizing our social responsibility in the region even more."
Taking responsibility – Envases does this not only in social but also in ecological terms. To achieve this, the company has drawn up a Climate Active Plan with which it intends to further advance sustainability in all areas. "We're not just about the can, and we're not interested in the before and after," clarifies Jochen Massa. A sustainable corporate orientation includes energy- and resource-saving production processes as well as efficient and climate-friendly logistics and careful supplier selection. "As a future-oriented company, we ultimately have a special responsibility towards the younger generation," emphasizes Jochen Massa, who himself is the father of two young daughters.
Responsibility as Envases Managing Director is an incentive
In fact, he sees some parallels between his roles as a family man and Envases Managing Director. After all, Envases is also "his baby" in a way, the employees are close to his heart, and just as he would do for his family, Jochen Massa would also "do everything for this company. The great responsibility that now lies with him as Managing Director of Envases is only an added incentive for him. "Of course, the person at the front has the greatest pressure." But Jochen Massa doesn't let that bend him, and continues to hold on to the values that were already important to him as a pressman apprentice. The friendly faces and the benevolent nods of the employees when he walks through the production halls in the morning prove him right.